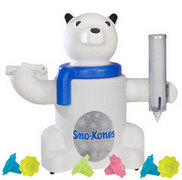 Snow Cone Polar Pete (Machine Only)
$60.00
Polar Pete Snow Cone (Machine only)
Only $60 with inflatable rental
$75 w/o inflatable rental
No supplies included
Add 2 flavors of syrup and 50 cups for only $15
You supply the ice

Cup holder in picture not included.

YOU CAN MAKE APPROXIMATELY 2 SNOW CONES PER POUND OF ICE. THIS IS ONLY AN ESTIMATE. ALWAYS BUY A LITTLE EXTRA SO YOU DON'T RUN OUT. DON'T FORGET TO HAVE A COOLER TO STORE YOUR ICE IN.