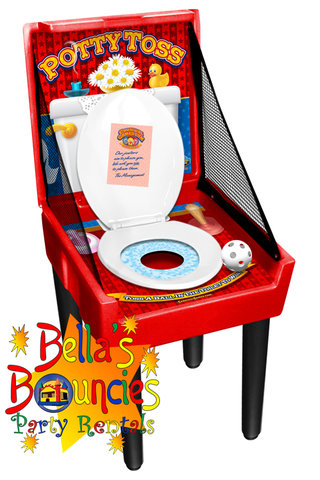 Potty Toss
Actual Size: 24" W x 24" L x 45.5" H (30.5" H without legs)




Step right up and win a prize with our new carnival themed Potty Toss game rental. Are you ready to flush the competition in our new Potty Toss carnival game? Take turns tossing wiffle balls into the toilet to find out who is the king or queen of the porcelain throne.
Rent this game for your next school carnival, birthday party, corporate event, or team building event.
This carnival game can be setup on the ground with the included legs, or on a table. Game is approximately 31" tall without legs attached. When legs are attached, game sits just under 4 feet tall. Table is not included in the price.
Objective – Toss ball into potty.
Instructions – A single player throws 3 wiffle balls (one at a time) at the game board. Sink one in the potty to score!