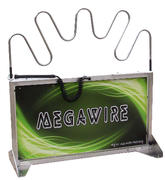 MegaWire Carnival Game

Actual Size: 4' H X 4'W X 1' D




Dimensions: 4' H X 4'W X 1' D

The MegaWire Carnival Game: if you have been to a fair or festival, you have seen these games, but not in this size in a fully portable model. Size DOES Matter! Megawire is the ultimate test of patience, whole body steadiness, and hand-eye co-ordination. Watch while players attempt to navigate the handheld ring through 12 linear feet of tube on this massive 4 feet tall by 4 feet wide game. Should they loose their concentration and make a mistake, the red light will turn on along with an audible buzzer.