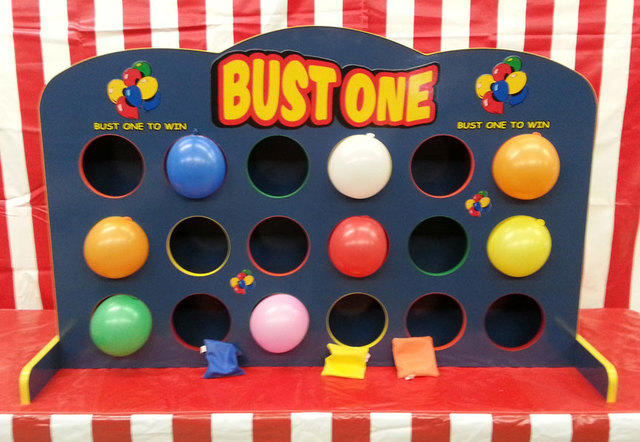 Bust One Balloon Pop Carnival Game
Actual Size: 38"h x 60"w x 24"d




38"h x 60"w x 24"d
Player throws bean bags at balloon attempting to pop it. Game operator determines how many popped balloons wins prize. Our Balloon Pop carnival game is a full size balloon game that you throw bean bags to pop the balloons so no darts are necessary. A pin is located behind the balloon so when the bean bag hits the balloon it pops it from behind.
Balloons are sold seperatly and not included in the Balloon Pop rental price. We sell a bag of 100 -9" high quality balloons for $15.00 per bag. This balloon pop game comes with a duel electric inflator pump that will make blowing up the balloons very fast and easy but it does require electricity.
This game is better played on a table so be sure to rent a table if you do not have one because the rental price does not include the table or skirting. We also rent carnival booths for the real carnival look.
Balloon pop games have been around for years and used at carnivals and fairs around the world. This game comes complete with an electric inflator and 6 bean bags, but electricity is required to operate the air pump.