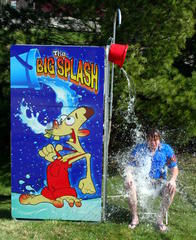 Big Splash




$225.00

Please call to reserve this item.

Want to have a splash without a dunk tank? Try the Big Splash game instead. Place a chair under the bucket and have someone sit beneath it. Throw balls at the target to release the bucket of water and splash the victim below. This splash-tastic game is great for all ages!
Unit must be hooked up to a water source. Hose must be supplied by the customer. We will supply the chair.