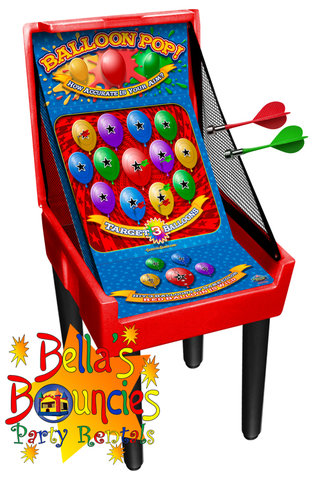 Balloon Pop
Actual Size: 24" W x 24" L x 45.5" H (30.5" H without legs)




Test your skill with the classic carnival Balloon Pop game rental. Take aim by throwing darts and hit balloons targets to score big and win!
Rent this game for your next school carnival, birthday party, corporate event, or team building event.
This carnival game can be setup on the ground with the included legs, or on a table. Game is approximately 31" tall without legs attached. When legs are attached, game sits just under 4 feet tall. Table is not included in the price.
Objective – Hit balloons to win.
Instructions – A single player throws 6 magnetic darts. Hit a specified number of balloons to win!
Alternate game play ideas –
-Hit the center balloon to win a larger prize.
-Hit the black star to win larger prize.