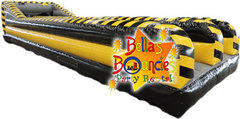 Toxic Dual Lane Bungee Run
$350.00
Please call to reserve this item.
AVAILABLE SPRING 2017
Dimensions 38'L x 10'W x 8'H
A crowd favorite, especially with older kids and adults. Two racers go head-to-head to see who can make it the farthest down the lane before being pulled back by the bungee harnesses! Great for schools, churches, company picnics, team building events, and backyard parties. Now in our brand new TOXIC theme.