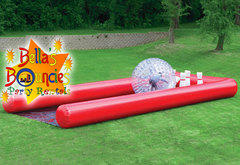 Human Bubble Bowling
$450.00
Please call to reserve this item.
AVAILABLE SPRING 2017
Dimensions 40'L x 17'W x 4'H
No bowling alley around? No problem; we have Bubble Bowling... Just climb inside and instantly, you are the bowling ball. Run down the alley and try to make a STRIKE! You'll be laughing so hard, you'll have a hard time making the ball go where you want it to.
This inflatable requires 1 outlet on its own circuit. If delivering to a yard with a fence, you must have a 4' opening for this inflatable